Emergency Responder Radio Coverage System (ERRCS) Public Safety Consulting and Design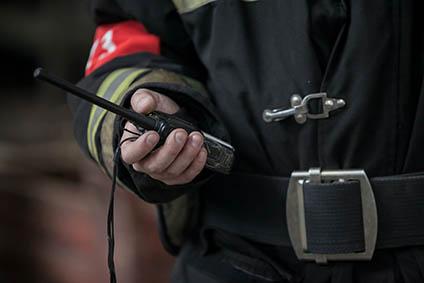 Does Your Building Require ERRCS?
All buildings that are over three stories tall, over 50,000 square feet, or have underground parking require ERRCS for tenants to legally occupy the building. ERRCS allows for in-building coverage for first responders, allowing seamless communication from within the building to the public safety radio network. This communication is often affected by walls, low-e glass, interior clutter, trees, and other obstructions.
ERRCS is by no means plug and play. Designing and implementing a certified ERRCS requires technical RF expertise, followed by testing and fine tuning for optimal performance. This system needs to be designed to work flawlessly when you need it, and has to be able to survive in critical situations in order for first responders to use it in a disaster scenario.
Don't Mistake ERRCS with Other Safety Systems
Your building's Emergency Responder Radio Coverage System is not a fire alarm system, but an extension of the public safety radio network. While fire prevention, detection, and alarm systems are critical for the safety of the inhabitants of a building, the ERRCS needs to function when these other systems have failed. It's absolutely crucial that an ERRCS is designed and implemented with care and expertise.
Connected Technologies is a Leader in Public Safety Emergency Responder Systems
We're one of fewer than 100 companies certified to use the industry's best meter for Grid Testing buildings, and we have an FCC Commercial Radio License (GROL) required by most municipalities for the installation of ERRCS.
We can perform a wide variety of work, including:
Building assessments
Grid tests
Permitting
Bi-Directional Amplifier (BDA) Planning
iBwave heat maps
ERRCS BDA Installation
ERRCS BDA Maintenance
Connected Technologies is certified to test, design, install and maintain your building with the appropriate Public Safety ERRCS installation and provide peace of mind that your building will be code compliant.
Reach out to us today at (706) 548-9598 if you have any questions, or would like to begin with an assessment.